JF Ptak Science Books  Quick Post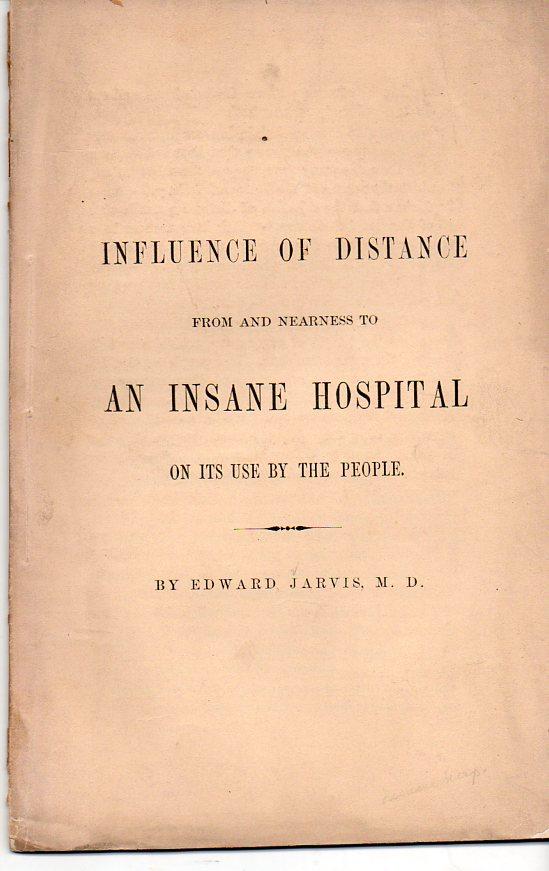 Dr. Edward Jarvis (1803-1884) conducted a study1 in 1866 to determine how much a factor distance from an "insane hospital" was in regards to people using the facility. It sounds like an obvious-enough question with a probably-obvious answer, but these things are really never so until someone actually looks at the data and extracts an answer. And so Dr. Jarvis performed this function, answering the question once and for all that yes, indeed, the further away you are from a facility the less likely you are going to be to use it, and thus we have Jarvis' Law.
"Mental health researchers have long considered the importance of distance on psychiatric service use. Systemic analyses regarding the relationship between distance and the use of mental health care can be traced back to the mid nineteenth century, when Edward Jarvis identified inverse associations between home-to-hospital distance and the rates of admission to Oneida County Hospital of New York and the Kentucky Lunatic Asylum in Fayette County. He claimed that people living near psychiatric hospitals send more patients there for admission than do those living far away (Jarvis's law).The study also revealed urban–rural differences in the prevalence of insanity, and high admission rates to psychiatric hospitals among people residing near the city center. Jarvis's law has been identified in numerous studies since the mid-twentieth century."--Kuon-Chiao Tseng, et al, "Travel Distance and the Use of Inpatient Care among Patients with Schizophrenia", Adm Policy Ment Health. 2008 Sep; 35(5): 346–356, published online 2008 May 30
Notes:
1. Edward Jarvis, M.D.  "Influence of Distance from and Nearness to an Insane Hospital on its Use by the People."  Published by Separately printed from the American Journal of Insanity, XXII, January 1866, pp 361-406. This publication paginated 1-46. (1866).