JF Science Books  Post 2786   (Part of, yes, the History of Holes series)
Holes and Dots (and anti-Dots) and Circles all have some longish threads running through this blog, though where they are actually running to is unknown at this point--perhaps when they get "there" they'll recognize it and stop. Today's installment scopes out the writing property for filling-holes-up, perhaps on the road to a Picture Alphabet of Hole-Filling:  filling holes with seeds, explosives, death, trains, square pegs, cities, music, everything in existence, soldiers, blood, superconducting super colliders, fallout shelters, radioactive waste, books, a shadow, a sunbeam, light in general, and so on.
Somehow though it seems a larger and more explosive time in describing how holes are made in the first place, but that'll be for another time. 
The first image comes from Ediblegeography and shows a Nazi-caused bomb crater during the Battle of Britain ca. 1940/1 with its new innards.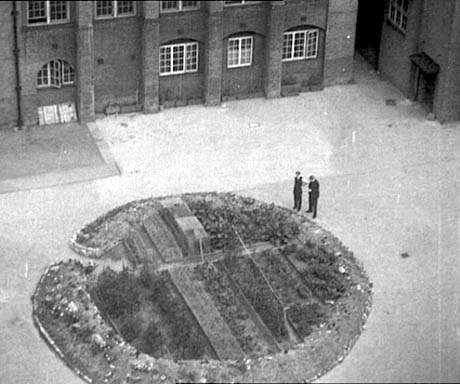 And ditto1 here: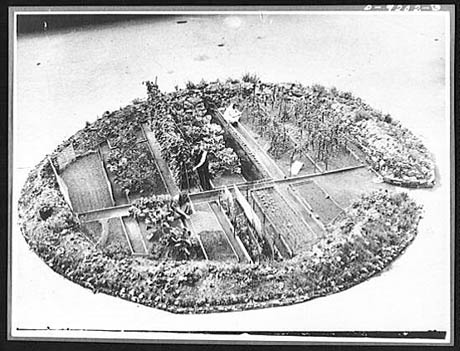 A very unusual instance of filling holes up is when they are filled with cities.  Underground holes for some reason sang out their siren tunes of underground cities, landing the listening Oscar Newman on the rocks with his singular design.  The 1969 underground city (the image of which can be found in Alison Sky and Michelle Stone's  Unbuilt America,  McGraw Hill, 1976, page 192--no home should be without this book) shows his fascination and unguarded belief in such an idea, though the whole things reminds me of a dog-buried ball.
 During WWI  the indomitable sappers would dig long, tenuous tunnels under the field of battle to the enemy's position, and then fill up the end of their hole with a lot of explosive, and then blow their enemy to kingdom come. This would be the Hole Filled With Death.
Holes filled with men--if holes can be considered so that are half-a-hole, as in a "trench", then the period from 1914-1918 saw a 25,000-mile half-hole filled with 50 million men, half of whom would not come out alive, as they had been riddled with holes that got filled up with their blood.  
recording telegraphs made holes in paper tape so that the messages could be played back in their entirety later on
I suppose too that a case could be made for the Leviathan, the empty holes of the political impresario filled to capacity with its subjects, the popular puppets filling the empty monarch because there is nothing there save for its need to be filled up, filled in the way that Gargantua and Pantagruel were filled.

Another very famous hole was filled with dark, a shadow cast by a stick, a lovely experiment carried out thousands of years ago by Aristarchus of Samos to prove his theory that the Earth was round.
Not quite on the other hand is the sunbeam allowed to fall on the floor of the cathedral of S. Petronio in  Bologna through a speculuum in the ceiling, creating a solar clock (this being only one of many such examples).
And I guess too that light entering one end of the telescope or microscope could also be considered a variant of filling-up-a-hole, if we can establish that a tube is a hole.  
These holes below were filled with music--rather, they made it possible for music to be made through them, that they could actually produce a piano to play whatever music had been "transcribed" in them.
In any event, this was meant to be a short thinking-out-load pieces on a Pictorial Alphabet of Hole-Filling, and it seems like a nice start.
Notes:
1.  Again from Ediblegeography:  "Bomb crater victory garden (sadly long gone) near Westminster Cathedral, image from Pathé Films footage via City Farmer News".