JF Ptak Science Books   Post 2447
There's nothing quite so ironic as understatement when the understatement is understated even in advance of itself.  I've noticed this here and there with the depictions of atomic/nuclear war in the bomb's early history, say 1946-1960, as seen in comic books.  For example, here's something I posted last week that is a fairly representative understatement done in a small way about a big thing: 
See here.
It is I think representative of an entire class of mid-century image of atomic understatement.
Having found this one others were quick to follow. 
The comic World War III is a  caustic of advanced crispy-crunchiness, and set in the year 1980, where the future found the Brooklyn Dodgers still playing in NYC.  For some reason, the photographer on the roof of the Polo Grounds takes a slow burn of realization that something big was going on, processing the burned pennants /heat/glare before settling on the enormous mushroom cloud rising four miles above Manhattan... 
[Via the Internet Archive,  full text & lurid illustrations here http://ow.ly/Mqcox ]
And another fine example, this graduating to a hydrogen bomb later in the decade, a bomb far more unimaginably powerful than the unimaginably powerful 20kt bombs of 1945. Okay, there are red skies and a firestorm the width of a city, and the "mushroom" ends the film, but there is only a perfunctory statement of the too-close-together heads that they now know what a hydrogen bomb explosion was, or is, or could be: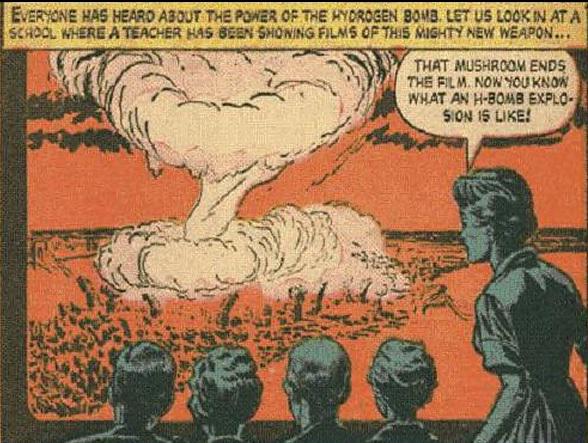 [Source and full text via the Internet Archive,  http://ow.ly/Mqbpw ]
I know it is difficult to describe the Grand Canyon as it would be to witness a nuclear explosion (let alone be in one).  But these under-nucleated statements is sort of the equivalent of describing the Grand Canyon as something along the lines of "We're here now and looking down".  
And this is about as loud as the screaming gets in Capt. Marvel's adventures with the atomic bomb. This is surprising mainly because the comic was published only about a year after Hiroshima/Nagasaki, and imaging a "flock" of missile launched atomic weapons falling all over the U.S. was a salient look into the possible future.  
[Source: http://ow.ly/MqlGV] 
And in the face of the unspeakable, Capt Marvel seems unflappable:
On the other hand there are excitable statements regarding the bomb:
 But it does make one wonder about featuring shock-of-recognition statements about the apocalyptic  bell ringing of nuclear weapons as expressed in comic books as a comparative whisper in the description of the thing.  It is almost as though if the Cornishman spoke quietly enough he wouldn't make the wakening giant angry.