JF Ptak Science Books  Quick Post
Part of a long series on  Atomic and Nuclear Weapons
I've collected a sextet of films I found and posted on twitter at one point or another, collected here and placed on one soft pillow.  They all seem to be made in 1950-1952, at the beginning of the Great Red Scare of the 1950's. There was a certain amount of fear and loathing about the USSR and the bomb beginning soon after the U.S. use of it in August 1945, though the Soviets didn't successfully test their first weapon until August 29, 1949 (called "Joe 1" in the United States). There was a slow march to the first air drop (1951) to the development of the first Soviet hydrogen bomb in 1954.  There was a constant bombardment of popular culture by atomic threat beginning shortly after 1945, with atomic attacks, atomic super heroes, atomic villains, atomic mutants, atomic super races, and so on, and that all accelerated with Soviet nuclear weapons progress through the early/mid-50's. The films and public announcements below represent an early rush of film media to deal with the possibility of ....Atomic Attack.  
Atomic Alert, ("elementary version"),  1951--a Bomb awareness film.
Source:  Internet Archive http://ow.ly/Mqa0q 
Survival Under Atomic Attack, 1951.
Source:  Prelinger Archive. http://ow.ly/Mq9HK 
Self-preservation in an Atomic Attack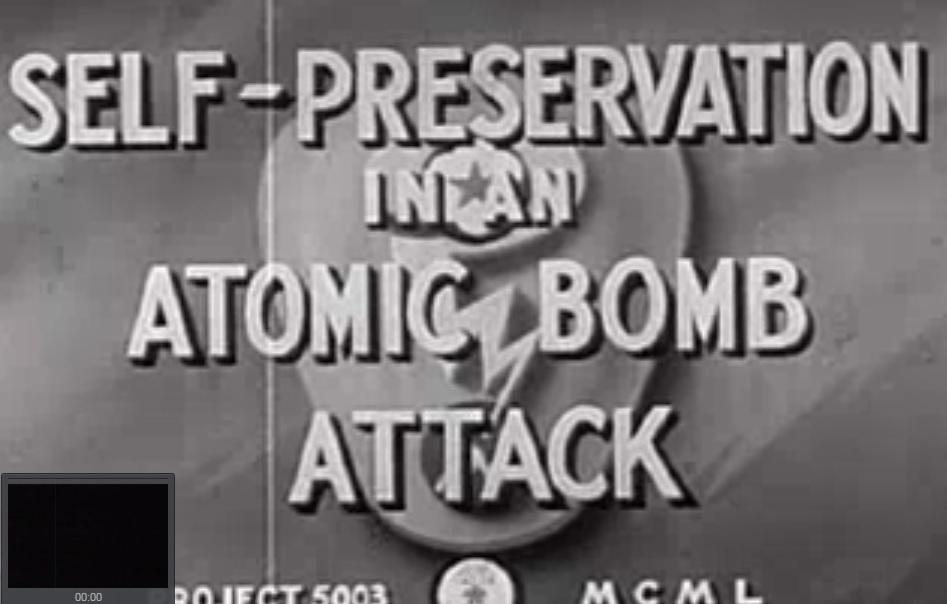 Source:  http://ow.ly/MpuND 
This one is simply called Atomic Attack (1950):
Source: Internet archive, http://ow.ly/MptGr 
A Day Called X  is a more unusual, you-are-there, War-of-the-Worlds  1951 dramatization of an attack launched against the U.S. with the action taking place in Portland, Oregon.
Source: Internet Archive http://ow.ly/Mqb2e
 Lastly here's Invasion USA (1952),  a not-so-good warning shot to the U.S. public about an atomic attack, though it all winds up being a dream, "mass hypnosis", augmented by a stage performer with a sash, warning everyone that what happened didn't but could. 
Source: http://ow.ly/Mpu22