JF Ptak Science Books  Post 1881  [Part of the series on The History of Blank, Empty and Missing Things.]
The history of hoaxes is a long one--especially the history of the intentional host.  There have been creations like the farcical report on the Nacirem Tribe of North America (in 1956, by H. Miner, who simply spelled "America" backwards and loaded his tribe up with all sorts of geegaws), the Piltdown Man, the chess-playing "The Turk" automaton (by Wolfgang v. Kempelen in 1770), the fabulous Moon Hoax of 1836, the Cardiff Giant, Piltdown Man, and so on. Some were done for fun and amusement (like the Moon Hoax), some were perpetuated to prove a point (like Alan Sokol's quantum gravity nonsense paper published as a rub against Jacques-Derridon't and triblings), and some were scientifically vicious (like Piltdown). There are others that are larger than themselves, started perhaps as a hoax but then turned mysitcally into a belief system like, say Scientology (though its possible to make a case for this with most any other such thought-organization system). Some of course weren't intended to be hoaxes when they began but remain intact even after their great shortcomings and displayed ill-logic have survived in the face of scientific refutation and common sense--like astrology. 
Then there are complications, like Constantine Samuel Rafinesque (1783-1840) and the Lenape Indian creation myth. 
It is uncertain whether this autodidact genius intended to fabricate his description of the creation myth, or whether he pieced bits and pieces together in a busy schedule that semed as though they were correct, or whether he was just getting stuff wrong.  It seems that, at the least, the drawings he conveyed as part of the story were all entirely his, and they may or may not have been derived from something that was ancient and real-enough.  In any event, all of what Rafinesque wrote was his fiction that may have been pulled together from other pieces of mythology (or not) rather than a scientific treatise.
It is interesting to think of perpetuating a hoax whose result is a fabrication of an entire people's belief system--basically constructing a religion from the ground-up. 
Mark Hofmann, a convicted multiple cold-blooded killer psychopath serving a life sentence in Utah for bombing people to bits while trying to camouflage his deteriorating forgery empire, very nearly went the last mile to write the missing section of the Book of Mormon.  His great specialty was Mormon history, and he had been successful for several years in convincing the leaders of the Church of Latter Day Saints that his forged documents were the real thing, many of which put the church in an unpleasant light, and so he managed to create a ready market for his uncomfortable creations. In the meantime for the documents that did surface in public he actually managed to change the debate in the church community about its basis in belief--which is an extraordinary and foul commission. 
It is not possible to say what was in Rafinesque's head when he committed his own story of creation to paper. 
I'm including it below as an interesting story, because, well, it reads well.
The Walam Olum (or "Red Score", also spelled Walum Olum, Wallum Olam, and several other ways.) of the Lenape.
("This Creation and Deluge story of the Lenape or Delaware Indians is taken from Dr. Daniel G. Brinton's The Lenape and Their Legends (The Library of Aboriginal American Literature, Vol. V, 1885). Since  "walam" means "painted," particularly "painted red," and "olum" signifies the scores or marks or notches or figures used on tally-sticks or record-boards, the sense of Walam Olum is variously rendered by "Red Score" (Dr. Brinton's choice), "Painted-engraved Tradition" (the translation left by Constantine Rafinesque, original copyist of these  Algonkin pictographs), or "Painted Bark-Record." The pictographs or glyphs or signs were "notches" designed to keep the long chant in  memory."
The very beautiful translation is Dr. Brinton's"--quote and text from the Sacred Texts of the World site, here.) 

1. At first,   in that place, at all times, above the earth,

2. On the   earth, [was] an extended fog, and there the great Manito was.

3. At first,   forever, lost in space, everywhere, the great Manito was

4. He made the   extended land and the sky.

5. He made the   sun, the moon, the stars.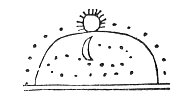 6. He made   them all to move evenly.
7. Then the wind   blew violently, and it cleared, and the water flowed off far and strong.

8. And groups   of islands grew newly, and there remained.

9. Anew spoke   the great Manito, a manito to manitos,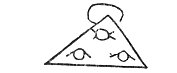 10. To beings,   mortals, souls and all,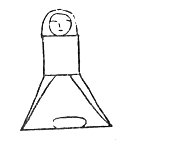 11. And ever   after he was a manito to men, and their grandfather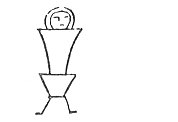 12. He gave   the first mother, the mother of beings.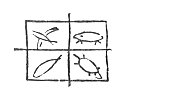 13. He gave the   fish, he gave the turtles, he gave the beasts, he gave the birds.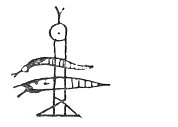 14. But an   evil Manito made evil beings only, monsters,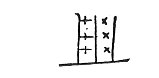 15. He made   the flies, he made the gnats.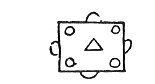 16. All beings   were then friendly.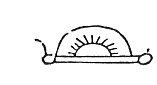 17. Truly the   manitos were active and kindly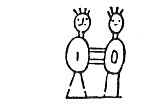 18. To those   very first men, and to those first mothers, fetched them wives,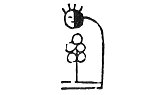 19. And fetched   them food, when first they desired it.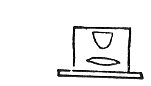 20. All had   cheerful knowledge, all had leisure, all thought in gladness.

21. But very   secretly an evil being, a mighty magician, came on earth,

22. And with   him brought badness, quarreling, unhappiness,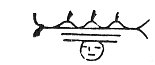 23. Brought   bad weather, brought sickness, brought death.
24. All this   took place of old on the earth, beyond the great tide-water, at the first.