JF Ptak Science Books   Post 1836

'There is seldom in shadow a mystery less hidden"--Ombra Nichts Schatten, The Non-Mystery of the Shadow, London, 1842
Shadows have long played havoc in the imagination, for good and for evil, for elucidation and of mystery--they have hidden nothing and everything, and displayed as little as possible and as much as can be imagined. A simple shadow in a hole had proved the circumference of the Earth twenty centuries ago, and before that the Earth's shadow on the face of the Moon showed us to be a sphere; the shadow allowed us to measure the heights of mountains on the Moon before we could do so (accurately) on Earth; we measure shadows in X-rays, and follow the trails of subatomic particles, and on and on.  Shadows are particularly interesting in story telling, whether they be suggested  aurally or in text, or of course in illustration: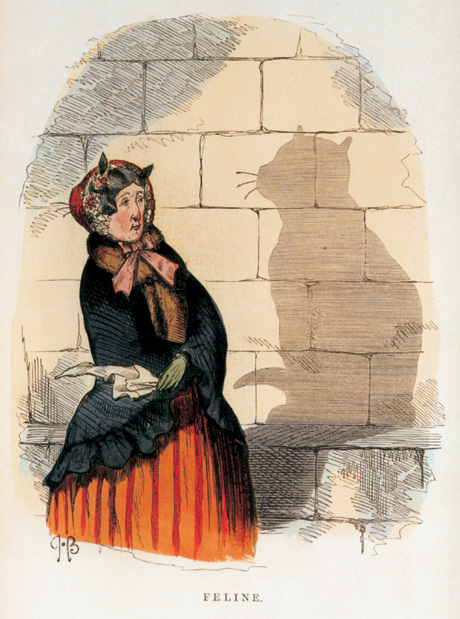 Chalres H. Bennet, Shadow and Substance, London 1860.
A superior example of shadow-art is seen in Indonesian shadow puppet theatre, "Wayang Kulit", where the shadows of Javanese-Indonesian characters are projected onto a cloth screen by a strong light from behind.

Audiences were bathed in direct and brilliant light while being swamped in shadow in the early 19th century as part of an early form of non-cinema cinema, as we see here in the frontispiece from Robertson's Mémoires récréatifs, which depicts a phantasmagoria of lantern projections: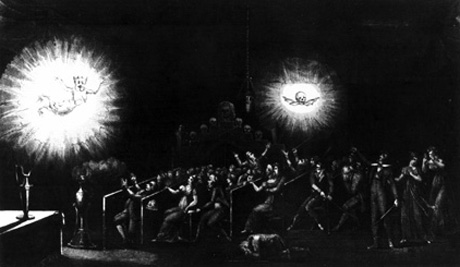 And more forthright illusions as seen in this engraving showing the spectre "Dr. Pepper's Ghost," from Theodor Eckardt, Die Physik in Bildern Eßlingen, 1881: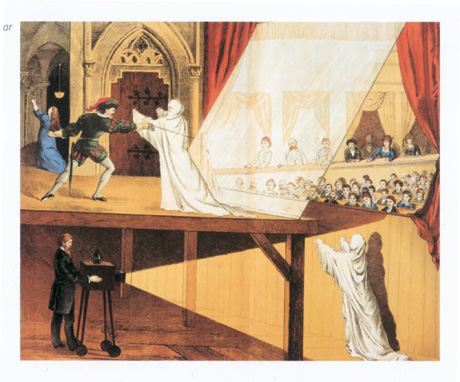 The shadow may have been invented in cinema by the German Expressionists, with  Friedrich Wilhelm Murnau's Nosferatu (1919) as a shining example: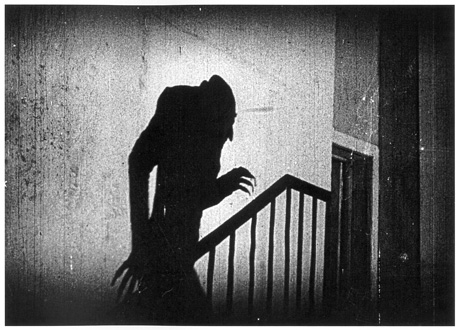 And of course the shadow is used with great effect in the  very black-and-white and no-gray-tones Film Noir world, particularly in the hands of a master like Mr. Welles in films like The Third Man:
And in Fritz Lang's diabolically-bad M, earlier, in 1931 (featuring an impossible shadow in the movie still below):
Shadow has been used to given questionable dimensionality in addition to giving perspective to dimensions that we are familiar with:
And the artificial shadow made for the geographical clock dial to tell the story of passing time:
And also for shadow puzzle toys:
And on and on, deep into the night...