JF Ptak Science Books    Post 1818

This delightful semi-progression of existence was found in Charles de Bouelles' beautifully titled Que hoc volumine continuentur; Liber de intellectu; Liber de sensu; Liber de Nichilo; Ars oppositorum; Liber de generatione; Liber de sapiente; Liber de duodecim numeris; Epistole complures, and printed in 1510 in Paris.  It is, in a way, in a light way, truly a representation of a literal progress of the state of things, perhaps from an  Aristotlean point-of-view.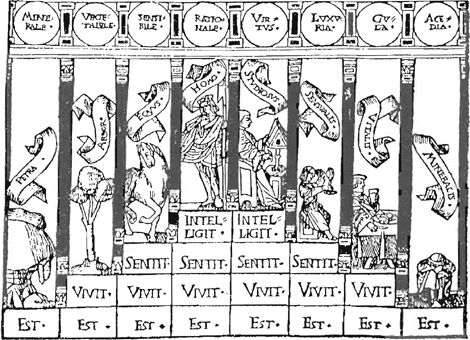 I've no real expertise in this matter whatsoever, and I don't know the de Bouelles book, but I can do a bit of interpretation of the woodcut, which displays different stages of the existence of all manner of things--of all things.
It starts at left with a rock, with an inanimate object ("Minerale", and then "Petra":, with the overall statement of its being, "est"--that it, it "exists".  This is the common basis to all eight stages of progress:  "est" all the way across, and all the way down. 
Next are the plants, the "vegetables"and "arbor", which live ("vivit"); followed at close heal by animals, "equus", which have"sensibilite", or senses. and sense, "sentit", which is a shared ability of four of the eight stages.
The shared height of progress comes next, in man, of "rationale", who is capable of thought ("intelligit"); these factors are shared by the scholar ("studiosis", who comes next, "virtus").   It is next that we start our descent, back to the simple existence of things, to the "est": the sensate, living, existing luxuriant, observing himself in a mirror, determined to see all that was possible to see.  "Luxuria" follows, a man eating, enjoying nothing but the pleasure of consumption, simply "living"/Vivit".  And then, lastly, to "acedia", to the indolent man, sitting, performing no task, doing nothing:  existing, "est".  Up and down, back to the rock.