JF Ptak Science Books    Post 1825  
Looking at old advertisements for the application of new/improved pharmaceuticals can be an experience in search of an explanation. Certainly we recognize the impact of these drugs today for what they really are, the business-end of their basis unmasked.  But at the time--well, at the time, before revelation, there was hope in the use of them. 
Opium of course has been used for centuries, but it was synthesized first in 1874 by the English chemist C.R. Alder Wright, though that first application went basically nowhere.  The big push came when it was independently re-synthesized and re-discovered by Fleix Hoffmann who was working at the time for the Aktiengesellschaft Farbenfabriken of Elberfeld, Germany, which is todyay known as Bayer, and which was re-named and marketed under the name, "heroin". 

Heroin was sold for nearly two decades as a cough suppressant, a safe replacement for morphine, and also non-addictive.
Narcotics in general however were applied somewhat liberally for complaints of all manner--narcotics not being controlled until 1925, banned by the Single Convention on Narcotics Drugs and the League of Nations (for its signatories, at least).   AS we can see int he detail of this Punch cartoon of 1879, the problems to be brought on by the new applications of electricity (still quite young in its modernistic sense at this time) could be sleeplessness for birds, as the outdoor lights might keep them awake.
But in detail, the sleepy old owl might have been dipping a little heavy into one of those bottles with bumps on its sides, its bottle of "narcotics" to help in tracking down sleep:
The early use of Thorazine came to mind--for the first time in a long while, at least since reading Ken Kesey so many years ago and hearing Root Boy Slim rhyme it in one of his songs--but it popped up again today on Liz Scherer's blog where she posted this image of an advertisement for the liberal application of Benzedrine to help snap people out of depression.  Of course there was also the opposite end of the spectrum where Thorazine was also suggested to help control the "depressed" aspects of depression.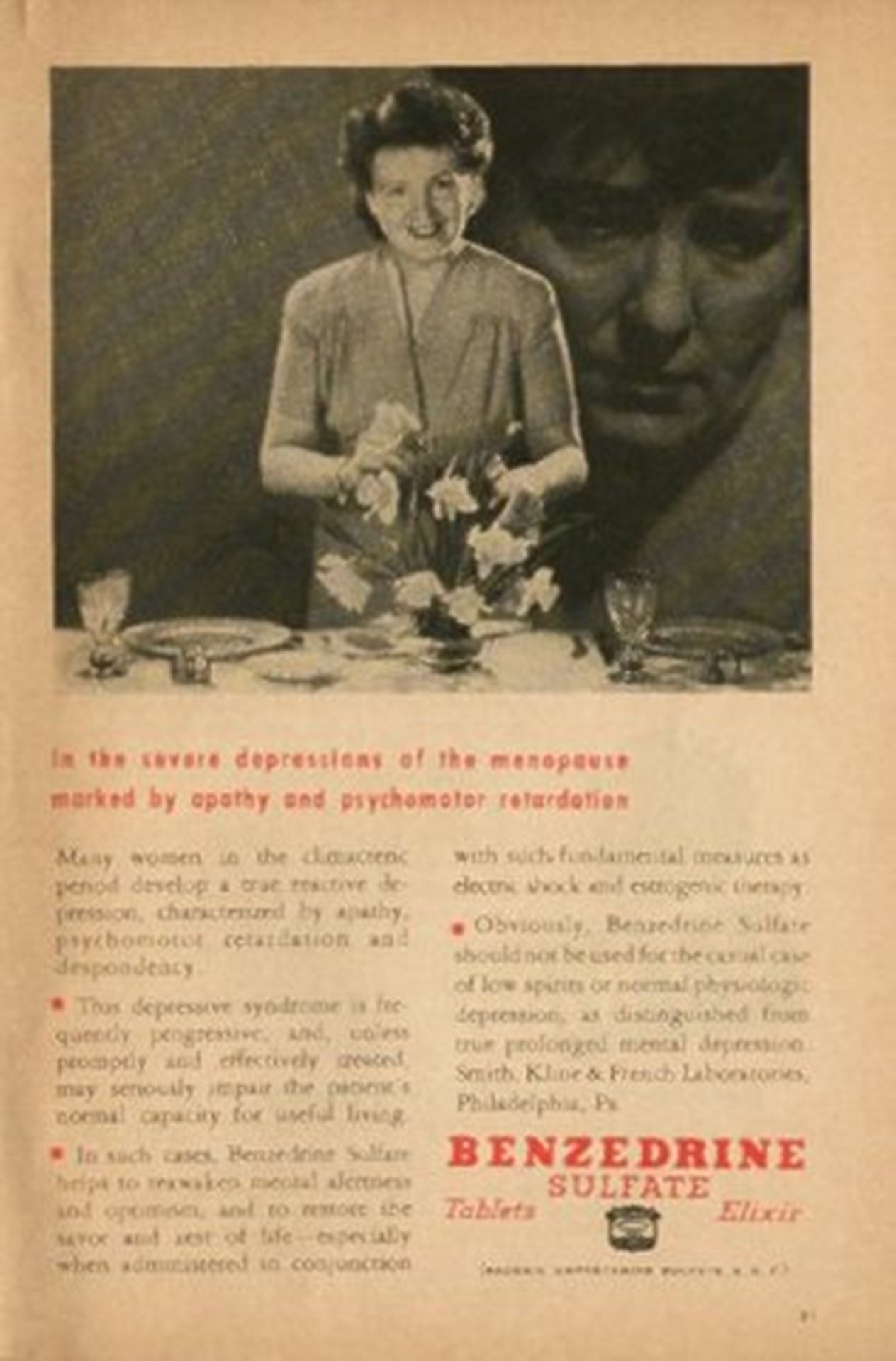 [Source:  Liz Scherer's Flashfree blog, here.]
Thorazine found a comfortable home in (full-page!) ads in medical journals for helping control all manner of upsets, including "old age", menopause, unruly children, and so on). 

 Serapsil was a nice "mood-evening" agent, designed as the ad says to lower the "tranquility threshold".
Nothing quite spells out "romance" in all of its breathy freshness than a face full of smoke from a cheap ciggie/cigar thing:
but this was hardly the worst of cigarette ads, just perhaps among the most vulgar.  Cigarette ads in and of themselves are all truly remarkable bad things, so picking out the mostly deranged of the plucked eyeballs from barrels-full of plucked eyes is a difficult thing.  That said, the famous series of ads used by Camels in which "doctors agree" on the superior nature of that cigarette's smoothness/mildness/flavor must count for something particularly nasty.  Each brand, however, seemed to have its own stand-alone bad ad; Pall Mall though may take the overall prize by using Santa Claus to sell its miseries:
There were bunches of Santas selling smokes, including one de-bearded impostor selling Fatima cigarettes.  There were bunches of other folks, too, trading in on the smoking bit–they were excitedly opening wrapped/ribboned gifts of boxes of smokes, or hanging packs on the tree, or kissers kissing with boxes of newly-gifted smokes in their hands behind their lover's neck.  And of course there was Ronald Reagan, who 26 years later would sell his flat forehead and broad grin to the American people as presidential lumber.  But it is the use of Santa that is so terribly wrong, because he was also sending a message to kids. 

Chesterfields actually stooped a little lower, creating another sub-level of bad in a geology of awful uses of Santa.   Out of all the things he has carried in his sack over the years, Chesterfield Cigarettes may very well be the worst of them.  Plus, not only is Santa delivery them as presents, he'€™s decorating the tree with them as well, and hardly acting the camera-shy sort that he is.  Chesterfield (Leggett & Morris Tobacco Co.) combined some of the best loved elements of childhood (the ABC's "€œAlways Buy Chesterfield") and Santa Claus to not only convince adults to think of the product as a Gift(ing) Unit, but also to lull children into a sleepy, memory-clouding  impression of Chesterfields being somehow good (what with these two primary associations and all).  "€œChesterfields have all the benefit of Smoking Pleasure (capitalized in the original) "they're givable, acceptable and enjoyable¦"  I wonder what they, meant, exactly, by using the word "€œacceptable"? 
Mornidine evidently was the practical way for housewives with "problems" to solicit their  morning best, enabling them to drag themselves out of bed, fix their hair and put on make-up, and then cook the morning breakfast.  Without a cigarette.
And for those who had trouble regaining sleep after some minor upset, there was also Quaaludes, which was much-abused in the 1970's as an overall body-relaxer and which could be found, fibromialgically, in The Parents"medicine" cabinet:
And back to the old standby, Thorazine, which was administered very liberally in institutional settings to turn the problematic and uncontrollable patient into a drooling, blank-eyed mess.  In order to control women in menopause, it was Thorazine to the rescue:
And again, for alcoholism:
It certainly seemed a remarkable drug, something with such a wide base for employment, from substance abuse, to bad nerves, to the control of the confused aged, and of course for fidgetingly moody menopausal women.  One I guess should have suspect the quidity of a drug that could be used for so many variable diagnoses. 
And lastly, a different sort of drug, a diseased imagination feed by disgusting images and fueled by an industry that would popularize and enable them--child porn for parents interested in making their children into under-aged ideas for putrid porn:
Simply a toweringly bad idea--what was it exactly that was the enticement here, and could it be anything but that?