JF Ptak Science Books   Post 1725
In the very full and ancient (Babylonian at least)  history of attempts at squaring the circle it is interesting to find that victory in its pursuit came on the fields of south-central Ohio in the mid-19th century. Who would have thought that this insoluable problem of ancient geometry (and which found a voice in popular culture going back to Aristophanes The Birds)  would find itself smoothed out in mid-western dirt?   And it all came at  the hands of a magnificently-titled state-authorized endeavor called the Circleville Squaring Company.  (Honestly, isn't that a fantastic name? I'm reminded instantly of Flatland.) 
It turns out that the American West pressed on through these lands in the Ohio Valley in the mid-ish 18th century, with white people coming in to colonize the place by the 1770's.  What existed here, in a village/town to be called "Centerville", was an ancient Hopewell culture circular earthwork, an enclosure of some sort, a fortification, with a large mound in the center.
The settlers thought that the best thing to do was to plan their town around this design, eventually placing an octogonally-shaped structure at the center of it all, on the top of the mound. 
Circleville, pre-squaring (1836):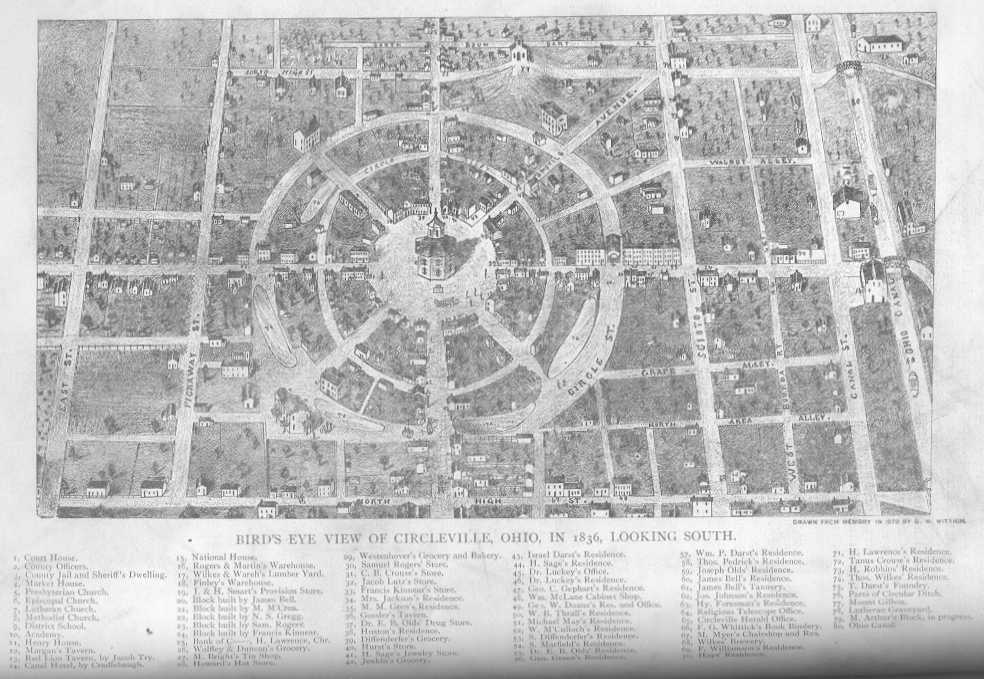 [Source, here.]
The source noted above (and here as well) tells the whole and complete story of what would happen next, but suffice to say that after some decades the people of Circleville decided that they did not like the circular plan of their town, and in 1837 occurred some legislation to do something about it.  The circles had to go, to be replaced by 90-degree angles for streets.
And thus to this end the Circleville Squaring Company was born in 1837, and over the next few decades quarters of the center city of Circleville were bought up, torn down, and replaced by a more desirable geometry.  The process seems to have been completed around the time of the Civil War.  Nothing remained of the original circular town plan.
Circleville, post-squaring:


In spite of the circumstances, the town remained "Circleville".