JF Ptak Science Books  Post 1684
On an early use of the term, Outsider.
Sometimes a word is just a word, and the elements of recognition sometimes inhibits that.  Except in this case that the word seems to be just what it is and also indicative of what it would become.

Outsider, or outside, outside the recognition of "official" art, of critiqued-art, is the English language equivalent/translator coined in 1972 (by Roger Cardinal) to illustrate the term art brut ("raw art") created by Jean Dubuffet.  Dubuffet created with others Compagnie de l'Art Brut in 1948, which in some respect was a reaction to a new sort of displayed art that had begun its life in the early 1920's, mainly as the efforts of doctors treating psychiatric patients who were expressing themselves through their art.  (Two famous examples include Dr. Walter Morgenthaler's Ein Geisteskranker als Künstler (A Psychiatric Patient as Artist), published in 1921 on the work of perhaps the most famous people in the Outsider canon, Adolf Wölfli; and another being  Bildnerei der Geisteskranken (Artistry of the mentally ill) published a year later by Dr Hans Prinzhorn.)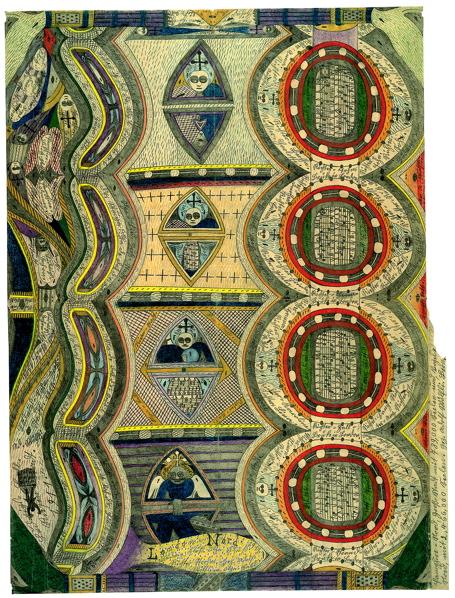 [Adolph Wolfi]
Well, "outsider" as we  know it today in reference to the arts is definitely not what the editors of Punch magazine pursued in this cartoon for their issue of 6 May 1886.  The "infuriated outsider" was simply an artist left outside a show, whose work was not accepted for exhibition. (And from the looks of it, the small work on the huge easel, being rejected for the "want of space" might not have been the reason for the artist not making the list.)  
[Henry Darger]
This outsider was simply outside with probably-not outsider art.  Henry Darger (1892–1973), Martín Ramírez (1895–1963), Paul Gösch (1885–1940), Charles A.A. Dellschau (1830-1923), Willem Van Genk (1927–2005) and so on were Outsiders, their work being Outsider/Art Brut and also being left outside for a long time.  Far outside.  In the far-deep outsider, further and deeper outside than the more aesthete outsider varieties of "outsider" art--like Impressionist, Cubist, Dada, Constructivist, Futurist--ever got outside.  
[Willem van Genk, detail]
Anyway, I thought it curious to find the term stuck in the middle of a cartoon rant in an 1886 popular journal.