JF Ptak Science Books Post 1689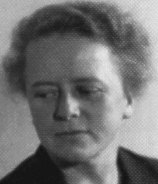 "it is conceivable that the nucleus breaks up into several large fragments, which would of course be isotopes of known elements but would not be neighbors of the irradiated element."--Ida Noddack, 1934
Sometimes events and conspire to almost come together, to be very-nearly-there but not so, just this shy of complete, just a little short of being whole--save for inspiration, or insight, or genius. Such I think is the case of Ida Noddack (and just about everyone else) in the non-discovery of fission in 1934.
Just for the record, fission is properly discovered by Hahn/Strassmann/Meitner and announced in Naturwissenschaften beginning in 1935 (with "Ueber die kuensrtliche Umwandlunbg des Urans durch Neutronen" in 1935 and culminating in the epochal papers of 1939)--and this the result of a long series of necessary discoveries made by Becquerel, Einstein, Curie, Joliot, Bohr, Chadwick, Compton, Fermi, Frisch, Rosbaud, Wheeler, Alvarez and others.
Noddack published her paper--"Uber das Element 93" in Angewandte Chemie (vol 47, pp 653-655) in 1934 (and published in Berlin) which correctly pointed out errors in Fermi's important two-page 1934 paper on neutron bombardment experiments "Possible Production of Elements of Atomic Number Higher than 92", published in Nature 133 (3372), pp 898-899. She identified as inconclusive Fermi's identification of transuranic products of neutron bombardment, and stated that the presence of all of the lower elements needed to eliminated along with the heavy radioactive elements. Noddack (1896-1978) was nominated three times for the Nobel (chemistry) but was passed by--she received recognition for her work, of course, but at the time- (1934) her paper was generally ignored, as it ran counter to some of the basic ideas of physics Noddack didn't offer any theoretical help in her observations, and the paper slid almost instantly into obscurity. The breakthrough work on this issue would begin int he next year and ultimately the unthought-of concept of fission would be announced five years later.