JF Ptak Science Books Post 1652 (Part II of an earlier post on Rooftop Airports, here.) Part of this blog's History of the Future series.
I really just wanted to post these two images before I lost them again. I've written earlier here about high-rise, in-town/downtown airports settled on the tops of buildings (or loaded onto newly-constructed structures over rivers and etc.), but these two images offer a nice distinction on the height's of elevated airports of the coming future. The first is by the great Paul Frank, and appears in Amazing Stories for 1928:

The taller of the two airports seems to be 75 stories above the ground, maybe more--its hard to tell. It is interesting to see that there is another (of no small size) right next door, but not quite so high. The 500'-tall elevated walkways/roads are impressive.
In April, 1936 another artist saw an even taller airport, which caps off an enormous building that seems at least not only twice the height of the Empire State Building (just newly completed), but also far wider. If you made the "...tropolis" airport signifier on top the midway of the landing field, I calculate the width of the building to be at least 600', meaning it would be something like 250x600', or about four acres (or more) per floor. Big building, with an enormous volume.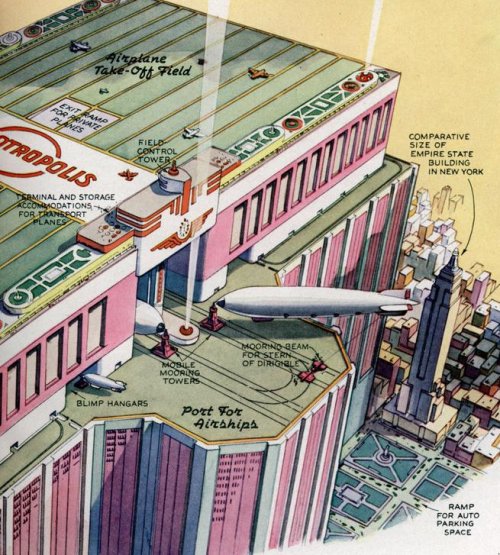 [Picture source:Modern Mechanics, April 1935, as pictured in Dark Roasted Blend]
[Picture source: Paleofuture.com]
And here, another big rooftop creation of a 16x17 checkered grid, complete with, well, nothing at all, not even guard rails or fences--this would be rooftop-airport-landing Old School. The runways aren't even particularly long, though I have no doubt that the magazine's cover space dictated most of the size, anyway.
Of course the idea of very-elevated high-rise airports become secondary when you introduce the idea of floating/flying airports, as we see in this fantastic idea by (again) Frank Paul in the July 1929 issue of Air Wonder Stories. (This image and next from frankwu.com website dedicated to the artwork of Frank Paul, a great and wonderful thing.)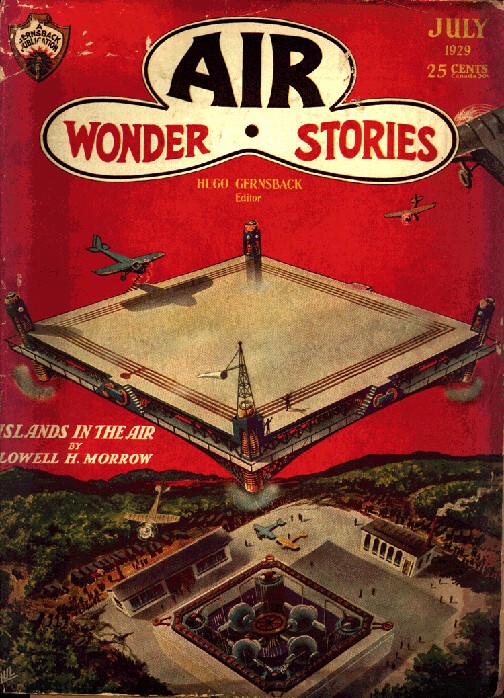 And of course when the idea of the flying airport fails, you can always go for the flying city, with airport:
This is again Frank Paul, from November 1929's Amazing Air Stories, and depicts--of course--New York City removed from the ground to levitate, above its former self. Luckily there isn't just a hole in the ground where is used to be, the rock and bedrock picked up along with the buildings and the rest of the (non bridge) infrastructure. It is still a busy place. I presume that given the crowding of the place that there are still high-elevation rooftop airports in the floating city.
There are other sorts of air-borne airports, though they are mainly built on/in large airplanes and airships, and really don't qualify for a post on the simple rooftop airport. Perhaps it is time now for an all-inclusive Odd Places for Airports post to appear here...
For example:
The magnificent possible, 1924, saw another kind of airborne airport: