JF Ptak Science Books   Post 1656   (Part of the History of Goodbye series)

The idea of there being a door to Eden is an interesting one to me--not just for the view of Eden from the outside looking in, but really for the view of the Un-Eden seen through the open door, looking out. Its a curious thing to imagine what the first view of the rest of creation would have looked like--maybe curiouser to imagine why there was a door or gate there to begin with.  A door in Eden could've meant only one thing--the exit.  There wasn't anyone there to enter Eden, and certainly Adam and Eve weren't going to go out and come back, so I guess the door was the Ultimate Fail exit portal. Just waiting. (Also there doesn't seem to be any mention of a door in Genesis, so this would just be further artistic spin on another version of the Fall of Man, a story which spins out from a place far older than the Old Testament.)
The door/gate doesn't seem to appear very often (to my memory and experience, anyway) but this image--a rather famous one from the great Nuremberg Chronicle (printed in 1493 by Anton Koberger) offers us a little clue, as well as a mystery.  We see the temptation of Adam and Eve on the right, and their expulsion because of their inability to reconcile the threat of pleasure on the left.
The open door doesn't really reveal too much, from what I can see.  Those blobs might be smoke, or bushes, or something symbolizing The Dark and Disappointment. There are some bits of the Un-Eden looming above that could be above the walls--like the mountain that look like a person sitting back with a book with a head tilted towards the sky--making the life outside seem as though it might not be so pleasant.

And then there's the mystery of the statue by the door--the statue of a figure holding a book or tablet and clothed in robes, standing on a pedestal by the door, in profile.  As Adam and Eve were the only people, its hard to imagine who that statue might represent, because all of those other people come later. 
Perhaps it was just a little creative largess from a woodblock cutter practicing or showing of their perspective skills into a piece of the block's image that is largely hidden.  Perhaps it was the same cutter who gave such great detail and belief to the flowing robes of the angel threatening Adam and Eve with a sword--there is certainly more skill involved there than anywhere else in the print, so much so that it makes me think that there was a truly accomplished hand brought in for that piece of flourish on the anonymously-produced image.
In any event, a door in the walls of Eden seems to me a curious and taunting device--an exit door without an entrance.
Here are some open-door/gate/portal examples, below, though none really show anything through the portal:
A rather lazy open door in the cycle by the Boucicaut Master (ca. 1405):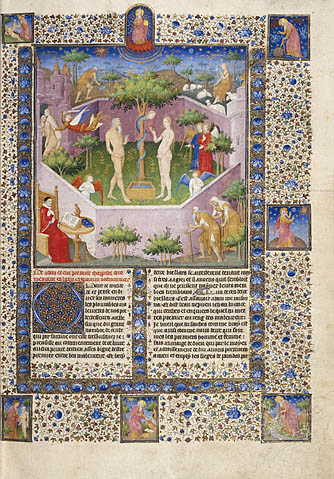 Bosch let the doorway a shambles:
Much later (in 1836), JMW Turner gives us a good solid view of Paradise through the open iron gate, outside looking in:
[Source: The Tate, here.]
Around 1416 the Limbourg brothers created this view for the Très Riches Heures du Duc de Berry, though there is no actual view through the very Gothic entrance:
Here, in this anonymous work (appearing in the History of the Old Testament in Verse, by Samuel Wesley, 1704) , the door seems more of a fantastic portal, an opening in space, with teeth-like bits, and nothing but shining light behind the threatening angel: