JF Ptak Science Books  Post 1629  (On Clouds and Not-Clouds, Part I)
"...and they drew all manner if things--everything that begins with an M---'
    'Why with an M?' said Alice
   'Why not?', said the March Hare." --Lewis Carroll,  from "A Mad Tea Party", in Alice's Adventures in   Wonderland.

Why not, indeed?  I've long had an interest in clouds, and since this blog is ostensibly on the surfacing or definition of Cloud Bones, I though to spend a little time on the origins of the depictions of printed clouds in art. Not being an expert by any means on the history of art, it just seems to me that after long exposure clouds are not well-represented in woodcuts, wood engravings and other early engravings, or at least not so well depicted as their landsmen in paintings.  There seems to be no shortage of effort to reveal gorgeous clouds  through the early Renaissance--but the doesn't seem to apply very often to their representation in prints.
And that of course is when the detail of the sky is depicted at all. It seems that more often than not, in woodcuts printed from say 1460 through 1550, that the sky is left blank, like this image from Ovid (Accipe Studiose Lector P. Ouidij Metamorphosin...printed in Venice in 1509:
"You could not see a cloud, because
No cloud was in the sky:
No birds were flying overhead --
There were no birds to fly".--Lewis Carroll, Through the Looking Glass. 
I could go on with many examples of the blank sky--the white, blank, settled nothingness--but exhibiting variations of nothing at this point isn't necessary.  But illustrating clouds is.

And for the most part, clouds don't look very much like themselves in prints, not really, not for more than a hundred years.  For example, Martin Schoengauer's spectacular  The Temptation of St. Anthony, which was printed in 1470/5, has a beautiful, fluid circularity to it, full of an earthy roundness even as the saint is pursued by demons.  But the sky in the background is populated with nothing but dashes to suggest clouds. 

Perhaps clouds would have taken away from the moment; but if that were the case, why bother with the dashes?
There are considerable exceptions to this practice, with Durer and Altdorfer coming quickly to mind--but in my experience, the oddly-formed cloud seems to be the majority rule in the woodcut.  
At this time there were of course many depictions of skies with no clouds in paintings, bare suggestions of themselves, even in some of the most famous works--Botticelli's Birth of Venus and Michelangelo's Fall of Man in the Sistine Chapel are fair examples.  But once you move away from the golden Sienese skies of the14th century1, clouds are given full and beautiful shapes from early periods. (Giotto's Christ's Entering Jerusalem, 1305/6; Simone Martin The Road to Calvary, 1340; Duccio's Christ Entering Jerusalem, 1308-1311; Fra Angelico's The Dposition, 1436; Masaccio's The Tribute Money, 1424; Lippi's Annunciation, a perfect cloud treatise, 1442, and on and on. Other examples are found in continued reading below.)
Clouds in prints are a different matter--I'm not sure if it was just too technically difficult to create clouds in wood, or if there was some sort of languishing Byzantine sensibility inherent in woodblocks that was not so in oil. I'm really not so sure about this, and as much as anything else I'm thinking out loud about this lack of cloud definition.  I don't have an answer for it.  But I do want to share the beginning of a timeline for undefined clouds as they appeared (or not) over the course of about one hundred years,  from 1485 to about the end of the 16th century.   As I mentioned clouds appeared beautifully in paintings from earlier periods, and there doesn't really seem to be a substandard-cloud complement in the painting world as there was in the print world.  Of course, in western philosophy and science, clouds were pretty much left alone from inquiry, even by a series of the great natural history classifiers--they wouldn't really be given a fully taxonomic appreciation until 1803 by Luke Howard (which I wrote about in this blog earlier, here).
A Timeline of Clouds in Prints, 1485-1596
Franciscus de Retza, De Generatione Christi, sive Defensorium Castiatis Beatae Virginis Mariae, a beautiful work in Gothic type--a picture book, really, with two illustrations of magnets.  Printed in 1485, this image depicts Isidorus in a magnetic coffin which is floating in the air:
"The Adoration of the Magi", from Legenda Sanctorum Trium Regum, printed in Modena in 1490:
A vision of Paris, from the Nuremberg Chronicle, 1493.  The uncolored original depicts the sky as completely blank; variation and clouds are added to this scene by a contemporary colorist:
Albrecht Durer for me is the person who in the print world depicted clouds more robustly, more realistically, than about anyone else, as we see here in his woodcut,  The Four Horsemen of the Apocalypse (1496/8):
The Virgin and the Child and the Infant St. John, ca. 1500:

"J.B.", (perhaps Jacopo Bolognese, according to Hind), Apollo and Daphne, woodcut, ca. 1505:

Frater Gysberto, La Sancta Vita di Beato Ambrosio da Siena...1509
Dante.  Opere Del Diuino Poeta Danthe Con Suoi Comenti...1512  The original woodcut was published in an earlier edition in 1491.
Albrecht Aldorfer, St. Christopher Seated on the Bank, 1515:
Johann Virdung's (ca. 1465-1535, of Hassfurt0 Nova medicinae methodus…1533
Livy, Titi Livii...RoischeHistorien...Gederuckt zu Meynetz... 1533
Tolomei, Claudio, 1492-1555., Versi, et regole de la nuova poesia toscana. nel 1539, del mese d'ottobre. In Roma: Per Antonio Blado d'Asola.  1539
Jacques Kerver (printer), Hora pollo, printed in 1543

Hans Holbein, scene of Judgment Day from the Dance of Death, 1546:
 Sebastian Munster, woodcut of the city of Ulm, ca. 1550:
Henricus Glareanus (Heinrich Loriti) Helvetiae decripto...printed in 1554, contains another case of intestinal cloudwork:
Pieter Brueghel the Elder, Engraving, Saint Jerome in the Desert, c. 1555-56:
Le Metamorfosi, Ovid's  Metamorphoses, translated into Italian by Gioseppe Horologgi, and published in Venice in 1563.
Christophe Plantin, Centum fabulae ex antiquis, by Gabriello Faerno, published 1567:

Jost Amman, "The Lutemaker", from his fabulous book of trades, Staenderbuch, published in 1568.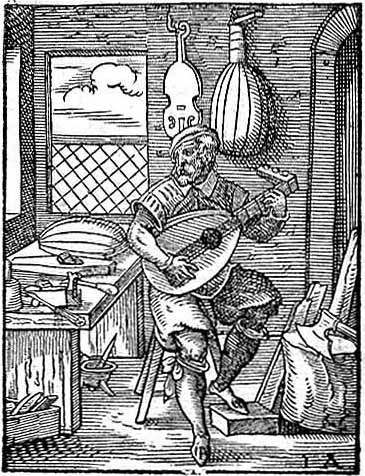 Hendrick Goltzius, on Roman heroes, 1586: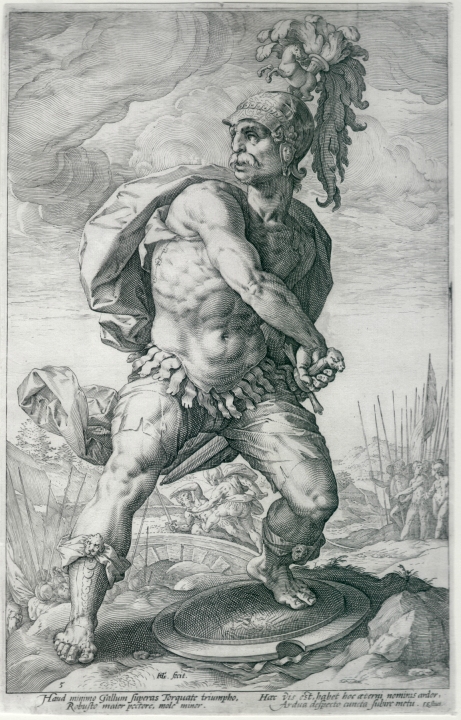 Work on comets by the Hungarian George Henischius, a professor of rhetoric, mathematics and medicine at Augsberg, published in 1596:
Amrose Pare illustrated the comet of 1528 in his Livres de Chirurgie (in a chapter titled "Des Monstres Celestes"), published in Paris in 1597:
Joachim Dalance's work Traite de l'Aiman, divise en deux parties, la premiere continent les Experiences et la seconde les raisons que l'on en peut rendre... which was printed by Henry Weinstein in Amsterdam in 1687
Conradus (Konrad)  Lycosthenes (1518-61), Die Wunder Gotes in der Natur, bey Ewrscheinung der Cometen oder, Besondere Anmerckung der vornehmsten Cometen, oder, Strobel-Stern published in Frankfurt in 1744.
Notes:
1.  The gold ground background in Italian paintings began to loosen its grip byt eh end of the 14th century and continued disappearing throughout the 15th century.  Even though there were embellishments in the gold adornment, I cannot remember clouds being worked in relief.