JF Science Books       Post 1609
In mid-Victorian England lived high possibilities for the use of electricity, in industrialism, in tools, and machines--but I think most of all, it was the new appearance of  Revolutionary Machines that seemed to me to offer itself as the new religious altar for the mass of people. After all, machines looked absolutely beautiful--and it wasn't just the machines, but their housings as well, what with some of these massive things being housed and supported by absolutely gothic-inspired designs, making the entire unit seem as though it was not only used by was the seat for some sort of belief.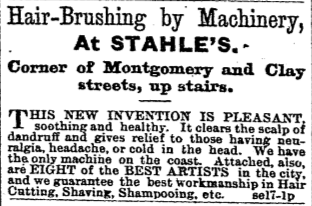 [Image source:  Sam Ryan, with transcription by him below.]
And like anything else, some of this belief-and-application system went a little too far, as we can see in this 1868 cartoon from Punch magazine.  There were new machines that could help the barber to treat hair--or in this case, brush it--but the new machine didn't really do that much good, so the thing might not have existed at all except to keep the barber from being bypassed by his more-modern companions.  But at the base of it all, like so much in Vctoria-ville, this machine happened to by Boy-powered. 
The cartoonist was just having a jab at the over-reaching of more-complex machines to do simple work, along with a sideways social poke at the idea of child labor. 
Notes:
THIS NEW INVENTION IS PLEASANT, soothing and healthy. It clears the scalp of dandruff and gives relief to those having neuralgia, headache, or cold in the head. We have the only machine on the coast. Attached, also, are EIGHT of the BEST ARTISTS in the city, and we guarantee the best workmanship in Hair Cutting, Shaving, Shampooing, etc.