JF Ptak Science Books   Post 1595

Jean Schwartz (b. 1878) , composed this number for his (with the collaboration of William Jerome) Broadway (hit!) musical comedy
Piff! Paff! Poof!  in 1904, 
which sounded like
this
.
But the real story--that we'll deal with later--occurs a few years earlier, in 1898, with a married couple of scientists who made an epochal discovery:
What was easier for folks to understand was the application of the discovery, just six years after the Curie effort--though it did take a little longer to take hold in the public creative imagination than, say, the discovery of the X-ray, which entered the public mind almost instantly following its discovery in 1895. 
[Source:  Duke University]
[Source]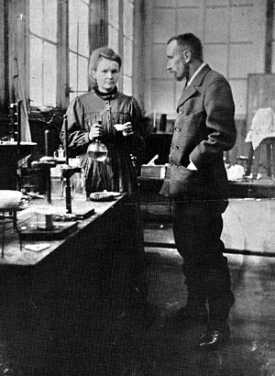 Perhaps the real Radium Dance occurred for the first time by the people who found the thing, radium, back there in 1898--Marie Sklodowska Curie and Pierre Curie.  They were a happily married couple, beginning their joined life in 1895, vacationing on wedding present money on bikes through the French countryside.  They were soon back to their primary love in physics and chemistry, and inspired by the work of Henri Becquerel, began their assault on radioactivity in the next year.  After several years of effort and laboriously extracting a gram of  pure radium (by 1902) from a ton of pitchblende, they published their efforts in the volume of the great French scientific journal, Comptes rendus...Academie des Sciences (volume 127, in three short articles), announcing their discovery of polonium (after Marie's country of origin) and radium. 
The really big Radium Dance would occur the year before the Broadway hit, in 1903, when the Curies and Henri Becquerel were awarded the Nobel Prize in physics1. 
Notes:
1. The Nobel Prize in Physics 1903 was divided, one half awarded to Antoine Henri Becquerel "in recognition of the extraordinary services he has rendered by his discovery of spontaneous radioactivity",the other half jointly to Pierre Curie and Marie Curie, née Sklodowska "in recognition of the extraordinary services they have rendered by their joint researches on the radiation phenomena discovered by Professor Henri Becquerel".