JF Ptak Science Books   Quick Post for the History of Lines*series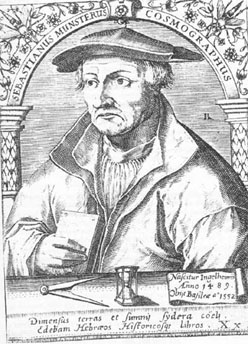 Sebastian Munster (1488-1552) did not contribute a great or even an original work in the history of mathematics, or even in surveying, or map making.  What makes his Cosmographia  important, and what made it so very successful (entering 24 editions over a hundred years), was that he was among the first scholars of the time to put all of this disparate material together, and to give credit where credit was due, and to present an accumulation of important information in a scholarly, reasoned way.  He also made all of this accessible to the general reader, so that the information and methodology could be spread very wide.  It was in fact the first time that the stuff of the world in general was described in German--that of course is very important; but the fact of the matter is that the presentation and scholarship that resulted in this work was in itself ground-breaking.
I've chosen an image from another of Munster's works, his Rudimenta mathematica1, which was a practical work on time reckoning, and another work of celebrated importance.
1. Rudimenta mathematica : haec in duos digeruntur libros, quorum prior geometriae tradit principia seu prima elementa, unà cum rerum et uariarum figuraru[m] dimensionibus, posterior uerò omnigenum horologiorum docet delineationes, 1551. 
And the full image, one of the woodcuts illustrating the section on the construction of sun dials:
Contents of the 16th century editions of the Cosmographia.
Book I - Astronomy, Mathematics, Physical Geography, Cartography
Book II - England, Scotland, Ireland, Spain, France, Belgium, The Netherlands, Luxembourg, Savoy, Trier, Italy
Book III - Germany, Alsace, Switzerland, Austria, Carniola, Istria, Bohemia, Moravia, Silesia, Pomerania, Prussia, Livland
Book IV - Denmark, Norway, Sweden, Finland, Iceland, Hungary, Poland, Lithuania, Russia, Walachia, Bosnia, Bulgaria, Greece, Turkey
Book V - Asia Minor, Cyprus, Armenia, Palestine, Arabia, Persia, Central Asia, Afghanistan, Scythia, Tartary, India, Ceylon, Burma, China, East Indies, Madagascar, Zanzibar, America
Book VI - Mauritania, Tunisia, Libya, Egypt, Senegal, Gambia, Mali, South Africa, East Africa
Note on introducing line fragments for the History of Lones series:
* I think that if I had a sense for design and some artistic talent that I could perhaps make something interesting out of bits and pieces of the details of a hundred famous lines.  Or two hundred.  Unfortunately, I don't possess those talents, so I'll just have to write about it as though it has been done, already.  If we could whisk ourselves away 50 years into the past to the great world of early broadcast television, back into the days of glorious black and white, it would be interesting to present the details singly and first on a game show like the lovable "What's My Line" show. (Another guest, another one of the hundred or two that could appear, can be seen below*, though I think this one is a dead giveaway.)