JF Ptak Science Books  Post 1577    
Before the Neil deGrasse Tyson version and update of Carl Sagan's landmark tlevision series, Cosmos, there was Alexander von Humboldt, and his enormously influential book of the same title, printed in 1845-1862.  Well, von Humboldt's (1769-18591) book was actually Kosmos when published in German, which is where it started its life (and which von Humboldt suffered mightily for in it English translation).  Von Humboldt was enormously studied and educated and of a high scientific mind over many subjects, one of those 19th century figures who seemed as though they could know everything, a polymath of high order (along the lines of Goethe and von Helmholtz and Thomas Young and others).  He was a meteorologist and biogeographer before those sciences existed; a naturalist, geographer, archaeologist, and explorer, a natural philosopher of magnitudes.
Kosmos reflected his lifelong interest in order, and what he did was astonishing--he attempted to unifying the complexities of nature in one book (of five volumes), binding the various branches of science together in a cohesive whole, attempting to show how the laws of the universe acted here on Earth.  It was a very influential work, very progressive, a masterwork of scientific method.  Kosmos.
Sagan (and Tyson, soon) tried to explain what the universe was all about; 160+ years ago, so did von Humboldt, and for his time he came damned close to doing so, or as close as anyone could possibly come. 
Notes:
1.  von Humboldt died six months before the On the Origin of Species was born--an enormous pity. 
Map from the atlas to accompany  Kosmos, a masterpiece of physical geography and the display of quantitative data: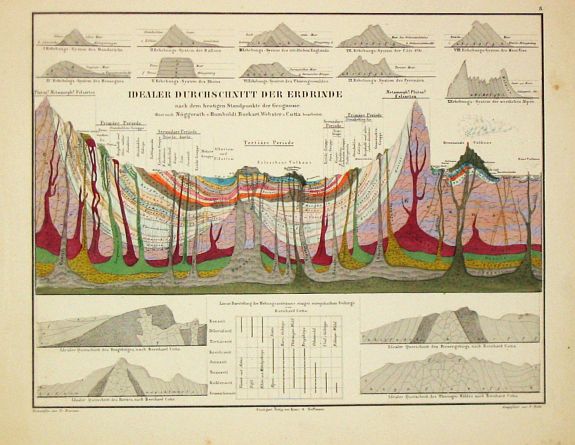 From the bibliography, Printing and the Mind of Man, which colelcted the epochal books in the history of science and medicine, we read this about Kosmos:
"Alexander von Humboldt [1769-1859] produced in his 'Cosmos' one of the last really comprehensive physical surveys ever to be attempted...For twenty years Humboldt was occupied in composing, in collaboration with Cuvier, Latreille, Gay-Lussac and others, his monumental account of South America. The first part was entitled Voyages aux Régions Equinoxiales du Nouveau Continent fait en 1799-1804, which serves usually to describe the whole work; thirty large volumes were published between 1805 and 1834, but even then it remained uncompleted. But it was Kosmos-'The Cosmos, Outline of a Description of the Physical World'-based on lectures delivered at the Berlin Singakademie in 1828-9, which Humboldt really considered as his life work. The last of the five volumes was published posthumously from his notes. In his own words it was meant 'to represent in one work the whole material world, everything we know today of the phenomena in the celestial spaces and of life on earth, from the nebulae to the geography of mosses on granite rocks...it is meant to describe a chapter in the intellectual development of mankind (the knowledge of nature)'. The book contains a complete survey of the physical sciences and their relation to each other" (Printing and the Mind of Man 320).