JF Ptak Science Books Post 1186
Years ago I played a little game with our older daughter, Emma, with a Toy Story character called "Stinky Pete".  Stinky was almost round, with little legs about 1/10 the size of his plush spherical body, so it was almost impossible to tell (when handled the right way) if Stinky Pete was standing or sitting, 'cause you really couldn't see any perceptible change.  There was very little difference, and most of that was imagined.  We called the game "Sitting or Standing?" and it used to make Emma laugh and laugh.
And in that same veinish vein I wonder how easy or difficult it is to tell what the follwoing figures are, whether they're city plans or biological units or integrated circuits or microelectric machines or skin. Sometimes its a close call.  And what that means I'm really at a loss of what to say on whether there is some deep underlying trap of relational woowoo.
And so, what is it?  (Admittedly these could be made more difficult by using confusing details of a segment of each image, but this is good enough.) Answers at end.
1.  City plan or integrated circuit?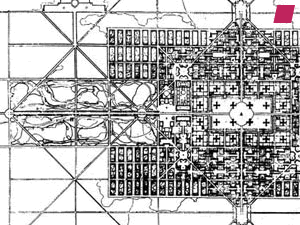 2.  Integrated circuit or palace plan?

 3. Clockwork interior or renaissance engineering diagram?

4.  Plan for a Lunar city or micro mirror?

6.  Drawing of aboriginal village or human blood cells?

7.  Integrated chip or city plan?

8. Integrated chip or city plan?



9. Integrated chip or satellite parking plan for football stadium?

10. Early integrated chip or floor plan?

11. Integrated chip or sci fi space colony bubble?

12.  Microphotograph of 1959 integrated chip or village plan?

13.  Railway switching yard or cross section of human skin showing hair roots?

14.  Buckeyballs or skin?

15. Microphotograph of carbon or particle collisions?

16. Farmlands or nanotubes?

17.  Model for Chicago bridgeworks or micro mirrors?
18. Elevator plans for the Dubai Tower or integraetd chip?

Answers: 
1.  Le Corbusier's plan for his "Ville Contemporaine", 1922.
2. Photograph of the 1971 16k bit random access memory chip (via Mostek Corporation).  On the other hand  I can see a vast palace at the top of the picture, with a long, columned entrance with manicured gardens on either side.  The image offers an elevation and a plan--that is, the top and bottom images of the buildings are seen in a deeply oblique view, while the central part of the image is a straight-out plan.  At least that's what I see, its imaginative possibilities more appealing than the physical realities (though that's where the extraordinary value is/was).
3.  The engraving appearedinDomenico Fontana's  masterpiece Della trasporatione dell'obelisco Vaticano…(published in Rome by Bassa in 1590) and illustrated  one of the greatest engineering feats of the Renaissance. The full image:
4.   Springs for a mechanical electrical machine positionable mirror, a few microns across.
 6. Human blood cells, described by me in an earlier post in this blog: "In 1837 the hemispheric frontal lens for the compound achromatic microscope developed by Giovan Battista Amici (1786-1863) vastly improved magnifying power to open an entirely new submicrospic world--this somewhat on the order of the introduction of Robert Hooke's (1635–1703), investigation in Micrographia (1655).  G.C. Ehrenberg (Die Infusiontheirschen als volkommene Organismen, Leipzig 1838) was among the first to use this new development, showing almost immediately that infusoria was not what was seen to be as Buffon's "organic molecules" (or unified wholes) but something far more complex..."
7  Architect Migeuel Angel Roca, San Pedro Housing Project, January, 1974.  Source: Miguel Angel Roca, Academy Editions, London, 1981.
8.  Perpendicular view of Naples, ca. 1938.
9. Intel 1702 integrated circuit, the first erasable, programmable, read-on memory (EPROM), 1971.   Actrual size:  0.147x 0.161 inches.
10. Plan for a library and office space at the Illinois Institute of Technology, Chicago, by Mies van der Rohe, 1944. (Source:  Colin Rowe, The Mathematics of the Ideal Villa and other Essays, MIT, 1985.
11. As much as I like the idea of an energy ball existing in negative space (or some such thing), this image shows the Fairchild (first time ever) planar integrated circuit, from the ripe year of 1961.
12.  Village of Logone-Birni, Cameroon.  Source: Bernard Rudolfsky, Architecture without Architects, Doubleday, 1964.
13.  Railway switching yard, Chicago area, 1940.
14. Buckyball-treated membrane.
15.  Simulation of particle collisions. "A single super-massive collision produces a discrete universe of four particle types. Particles draw their positions over time resulting in the construction of oddly familiar patterns."
16. Microtubes. "Microtubules can be seen in a bundle in this negatively stained preparation.  Recall that negative staining starts by immobilizing the preparation on plastic on an electron microscopic grid. Then heavy metal stain is deposited around the structures, delineating their structure. This preparation may allow you to see the tubulin molecules in the protofilaments." (Taken from Bloom and Fawcett; Textbook of Histology)
17.  Scanning electron microscope photograph of a MEMS mirror array.  "The device has a closely packed, one dimensional array of mirrors. These are piston mirrors, capable of vertical displacement only. This piston motion can be used to adjust the phase of optical signals, allowing correction of chromatic dispersion. The mirrors are made of polycrystalline silicon, and are coated with a thin layer of gold to improve reflectivity..."
18. Fairchild's first IC made with computer aided design, 1967, which was about .15 inches square.
IC image sources are all from Stu Augarten's  State of the Art, a Photographic History of the Integrated Circuit, Ticknor & Fields, 1983.