JF Ptak Science Books   Post 1155

"The most ignorant person at a reasonable charge, and with little bodily labor, may write books in philosophy, poetry, law, mathematics, and theology, without the least assistance from genius or study."   Jonathan Swift, in Gulliver's Travels
"Hell is the kingdom of the animal that swallows up the memory of all things... Between life and death there is no destiny except memory. Memory weaves the destiny of the world.."  Carlos Fuentes, Terra Nostra

"A people without history/ is not redeemed from time, for history is a pattern of timeless moments" -- T.S. Eliot, Four Quartets.

The future history of writing--it will tell us--was already written before it was written.   In the future, when everything that can be written has been written and everything spoken has already been spoken, perhaps the first footnote in the history of already-done things will be to Jonathan Swift.  The experience belongs to us through Lemuel Gulliver1, who after surviving two trips (one to Lilliput in which Gulliver is twelve times the size of
everything else, and the second to Brobdingnag where he is one-twelfth the size of everything) comes to a third (of four2) in the land of Laputa.  It is here where he encounters a conversation machine that, when cranked, produces anything and everything, the known and unknown, the original and the copied, and have the thought and spoken
word belong to the manipulator of the machine.  Everything that can be said is in that box, waiting to come.  The 20' square was occupied by cubes with words on their sides, with 40 cranks and 40 handles and 40 operators to manipulate the mechanical vocabulary and associated scribes to record anything that made sense, and would be the springboard of "knowledge"operating without a manual or an intelligent primum mobile. (The image of the machine--which bears some resemblance to an integrated chip--appears in the third edition of Swift's book, and as you can see is not a well-drawn thing, missing a row and a column and a crank here and there. A fuller description is found below.)

The idea of a universal knowledge or an expanding, forever-library is very old, particularly if you expand the concept a bit to include Aristotle and the Tree of Porphyry3.  While not exactly a generator in the sense of Jorge Borges' Library of Babel or the Swiftian machine, the ancients did
produce very interesting, elegant, beautiful ways of story information and ordering information.  The Tree of Porphyry is far more concise–an abbreviation-compared to the infinitely expanding hexagonal rooms filed with books and attendant librarians in the Borges' universe.  Or the Ars Magna/Thinking Machine of the 13th century Ramon Lull (also known as Ramon, Raimundo and Raymond, Raimundus and Raymundus Lull, Lully and Lullus and Lulio), the ultimate organizer of how sentences can be made and knowledge produced/uncovered (particularly if you want to please the logic of the church and the Creator), and which was almost certainly known to Swift (and which was also written about, described and worried-over by Borges4).  There are many other early figures in this category to be sure (Lewis Carroll, William Jevons, and even in a way Mr. Venn, not to mention Leibniz and his calculator,  and the changes in scientific method and (English/Dutch) mathematical concentration on applied mathematics of the 17th century that made thinking about the industrial revolution possible)), but that would be left to (at least) a longer post.  (The Lull wheel, below.)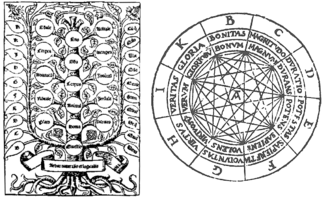 How long will it take to digitize everything that has ever been written, or recorded, or composed? Several generations? Ten?  It may well come to pass in shorter time than we think; and when you compare this control of recorded human history to the centuries that will follow in developing "computers", how can we possibly know what will become of all of it?  In the coming centuries and their attack on intelligence, when in the future the brain is a harvest of the computer, perhaps intelligence finally submits, and everything that can be done has been done, the progress of humanity snubbed to a stub. Or expanded exponentially.  It is such a tough call to make...

Notes:
1.  Jonathan Swift, Travels into Several Remote Nations of the World, in Four Parts. By Lemuel Gulliver, First a Surgeon, and then a Captain of several Ships.  1726.

2. The third voyage was Part III. A Voyage to Laputa, Balnibarbi, Luggnagg, Glubbdubdrib, and Japan. The fourth finds humans as pets/inferiors in the island of the Houyhnhnms, a land of intelligent horses.

3. The "tree" was a diagrammatic creation of a 3rd century Syrian mathematician/logician/philosopher named Porphyry who-- much taken with Aristotle (and with the Categories in particular)-- developed a systematic approach to the organization of thought in diagrammatic form.
4. Borges J. L. (1999) 'Ramon Lull's thinking Machine' in The total library: non-fiction 1922-1986 (Edited by) Weinberger, E., trans. Allen, E. Levine, S. J., and Weinberger, E. London, Penguin, on pp 155-160.
It is interesting to note that Lull, who gave up everything to follow his calling into the church (and who was antagonized by the belief that his very act of missing his left-behind life to be a sin against god's choice of him to follow his "career path") was demonized by the church soon after his death, his works prohibited reading for hundreds of years.  He was resurrected in 1958 though on a path towards sainthood, a doctor of the church.  
A description of the Swift machine: