JF Ptak Science Books
There's a fine experience in reading and looking at a history of art that is an artwork in itself--especially an antiquarian artwork. That is in a way what this work (Gallerie du Musee de France publiee par Filhol, Graveur, le Texte Redige par Lavallee..) edited by Antoine Michel Filhol, and Armand Carafee, and Joseph Lavallee is--it is exciting and exhausting, in good and perhaps not-so-good ways.  Being a general history of art the book looks at Ancient and Western art over the 1700 years or so, but mostly from the Renaissance forward.  It is exhaustive in its way and exhausting, in an Old School museum sort of way, where there is a lot of stuff to look at, all jammed in together, sometimes without a unifying force.  That means for each section there is artwork from, well, anywhere; although frustrating it is also exciting, because you never really know what's coming next.  This is especially true due to the fact that every engraving is protected by a tissue guard, which makes it mostly not possible to see the artwork until you open the guard page, which is when you may be surprised by the Rembrandt or Holbein.
Luckily/fortuitously, this set is accompanied by the elusive 11th and supplemental volume, which contains the very useful (!) index not published with the original set of ten volumes. The index is 15pp long and identifies the artist, school, subject, palate number and volume.  Pages 16-19 of the section is another index for sculpture, followed by another few pages for volume 11.  (For example we see 28 engravings for Rembrandt, 29 for Poussin, 9 for Ostade, 10 for Dou, 1 for de Hooghe, 2 for Holbein, and so on.
So far as I can determine there are 188 different artists exhibited in this work.  $1400.00
There are many many contributors to the execution of the plates, but not obviously by the artists themselves--the Rembrandts and Holbeins look really good, but they are not engraved by the masters.  
Gallerie du Musee de France publiee par Filhol, Graveur, le Texte Redige par Lavallee...Printed in Paris by Filhol, 1814-1828. 11 volumes (the standard volume 1-10 plus the rare supplemental volume 11, which includes a very useful index to the entire set).
9x6 inches, 780 engraved plates.
All uniformly bound in red morocco with red boards. Each engraved plate has a tissue guard. The engravings are very strong and nicely executed; the text describes the image as well as the artist. This is simply a lovely history of art.   The set is ex-library, with old paper stamps on the spine bottoms, plus the name of the library stamped on the exterior text blocks at top, side and bottom--besides the attractive bookplate at front pastedowns and the perforated library name on the title pages, there is very little else from the library. This parts aside, the set is in very nice condition, the text and plates fresh.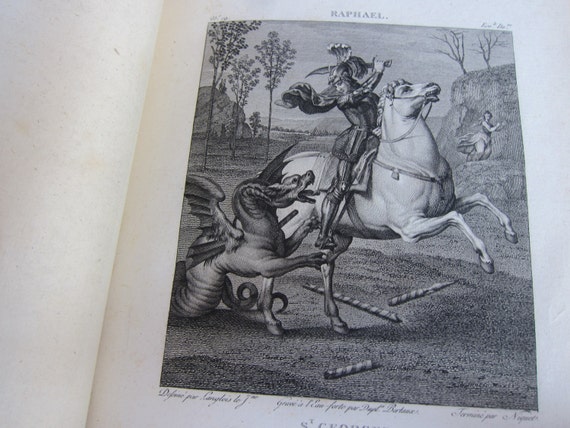 An earlier edition of the book (published 1804-1815 but basically the same as this edition) can be seen in its entirety at the Hathi Trust.

Other copies of this set--not ex-library but also not including the rare 11th volume--are available online for double our price.