Gallerie du Musee de France publiee par Filhol, Graveur, le Texte Redig par Lavallee...Printed in Paris by Filhol, 1814-1828. 11 volumes (the standard volume 1-10 plus the rare supplemental volume 11, which includes a very useful index to the entire set).

9x6 inches, 780 engraved plates. All uniformly bound in red morocco with red boards. Each engraved plate has a tissue guard. The engravings are very strong and nicely executed; the text describes the image as well as the artist. This is simply a lovely history of art. $900.00

The set is ex-library, with old paper stamps on the spine bottoms, plus the name of the library stamped on the exterior text blocks at top, side and bottom--besides the attractive bookplate at front pastedowns and the perforated library name on the title pages, there is very little else from the library. This parts aside, the set is in very nice condition, the text and plates fresh.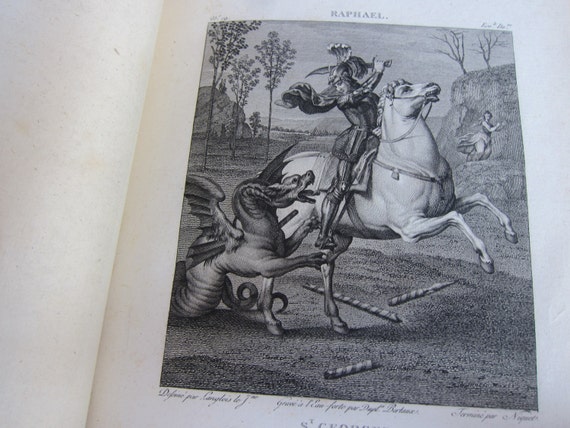 An earlier edition of the book (published 1804-1815 but basically the same as this edition) can be seen in its entirety at the Hathi Trust. A nice, large paper copy of the present edition can be found at Gallica.

Other copies of this set--not ex-library but also not including the rare 11th volume--are available online for double our price.