JF Ptak Science Books   Post 1751
Hiram Maxim, Sir Hiram Maxim, an ex-pat Yank and a great inventor of things other  than aircraft, certainly did not do his best on his early flying machine.  He built an enormous monument to Steampunk Aerostation, and in that 8,000 pounds of steel wheels and smoke, he completely lost the idea of making a flying machine, concentrating solely on the idea of thrust and lift, consoling himself with the notion of raising a brick from the ground.
 I'm not sure that you can disinvent many physical things, although I know that there have been many attempts to do just that , though usually in the fields of human beings doing horrible things to other human beings.  The Soviets I know disinvented untold numbers of people in the plague years of the human stain, Joseph Stalin; so to with Adolf Hitler, who tried to disinvent the Jewish people and the Soviet Union. 
Hiram Maxim (1840-1916) tried to build a monster that would leave the ground but not actually fly, and he basically did just that, very briefly with very heavy/crashy results. His flying machine was over 100' wide, had two 17.5' propellers, room of multiple crew members, weighed four tons, and traveled along guiding railroad tracks on steel wheels. In 1897 it powered  down 1800' of track before accidently breaking free of its moorings and  rizing briefly above them for a distance of about 100', which at 40mph would've been about 2 seconds of  foot-tall "flight", causing the crew to shut the engines down and causing the whole thing to crash  And that was that, the end of Maxim's adventure. It was remembered by him in strange and wonderfully terrible ways in his memoirs, where he claimed that his truly dreadful ideas were those that were used and copied by the pioneers who followed him and who actually created successful flying machines.  That he could remember things in their imagined states with such hopeful clarity is to think of him as providing precisely the wrong blueprints at the right time.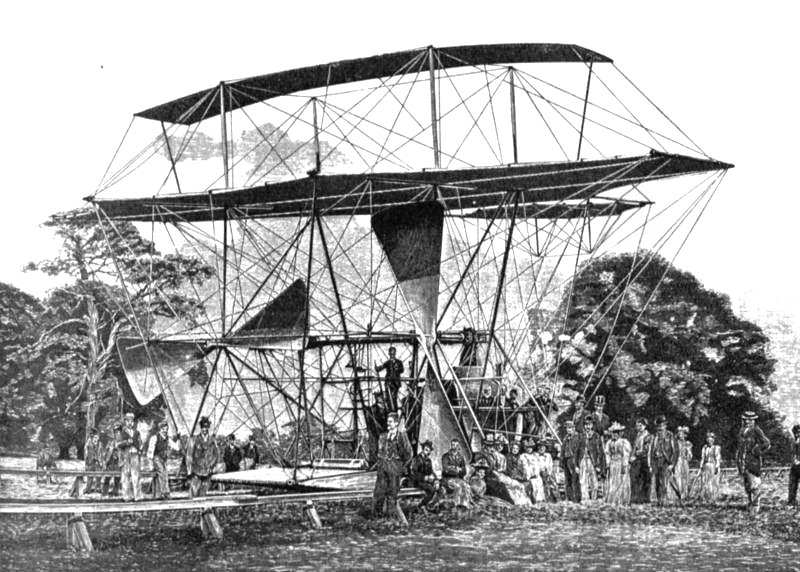 In his book, Aviation, an Historical Survey from its Origins to the End of World War II (Science Museum, London, 1970), the insightful, opinionated and occasionally acerbic Charles H. Gibbs-Smith remarked on Maxim's outlandish maxims on his enormous failure, quoting him so:
"...the fact that practically no essential departure has been made from my original lines, indicates to my mind that I had reasoned out the best type of a machine even before I commenced a stroke of the work"  (Maxim, Natural and Artificial Flight, 1908)
Gibbs-Smith writes: "it is hard to imagine anyone uttering more egregious nonsense", and when you look at the Maxim machine and see its specs and the nil-time spent on what to do with the thing if it ever actually lifted off the ground, you'd be hard-pressed not to agree.  Had people followed his lead, Maxim would have been able to disinvent human flight.  There, I said it.  There's wrong, and then there's wrong--and then there is this.