JF Ptak Science Books    Quick Post
Ralph Fasanella (1914-1997) was a self-taught artist who included minute details in his large canvases in which he re-created New York City, vast scenes of industry and celebration, and in general anything having a lot of people in it. He was if not in fact then at least in his head a Wobbly, a left-of-left deeply-pro-union socially-consciousness commentator, the son of a button-hole making mother and an ice-seller father. Ralph was a machinist and gas station owner, and in there somewhere in mid-life he became a painter.  I like his work quite a bit.
This (above) is one of his most well-known works, and it portrays the famous IWW strike in Lawrence, Massachusetts in 1912, (see the Great Strike.), also commonly known then as now as the Bread and Roses Strike.  What differentiated this strike from others was the very large involvement of women, minorities and immigrants.  Old Ralph wore his leftie heart on his sleave.
Here's some photos of the real thing:
 As usual the strike was about more humane working conditions, more light, better air, fewer hours, decent livable wages.  When the main employer in its town influences the flow of 85% of all of the town's income, it is difficult for people to resist demands from that business which might not be reasonable.  
[Photo shows group of men gathered outdoors, probably in New York City, to hear about the textile strike in Lawrence, MA. (Source: Flickr Commons project, 2008)]
[Photo shows the Lawrence textile strike of 1912, also known as the "Bread and Roses" strike.  Source:  Library of Congress.]
And from the introduction to the Report on Strike of Textile Workers in Lawrence, Mass., (U.S. Bureau of Labor, 1912) we read:

"In Lawrence, Mass., fully one-half of the population 14 years of 
age or over is employed in the woolen and worsted mills and cotton 
mills, and approximately 60,000 (including employees and members 
of their families) of the 85,892 people living in Lawrence are directly 
dependent upon earnings in these textile mills."

"The textile strike in Lawrence and the conditions which followed 
were not primarily due to any condition peculiar to Lawrence. The 
general conditions of the industry in Lawrence are more or less 
typical of the textile industry in all of the large distinctly textile 
towns, and the strike in Lawrence and the conditions attending it 
might just as easily have occurred in any other of these towns."

In short, a standard bit.
 Here are some other examples of Fasanella's work:

Stickball, 1975.   Source:Zero1Magazine
San Genaro Festa, 1975. Source:Zero1Magazine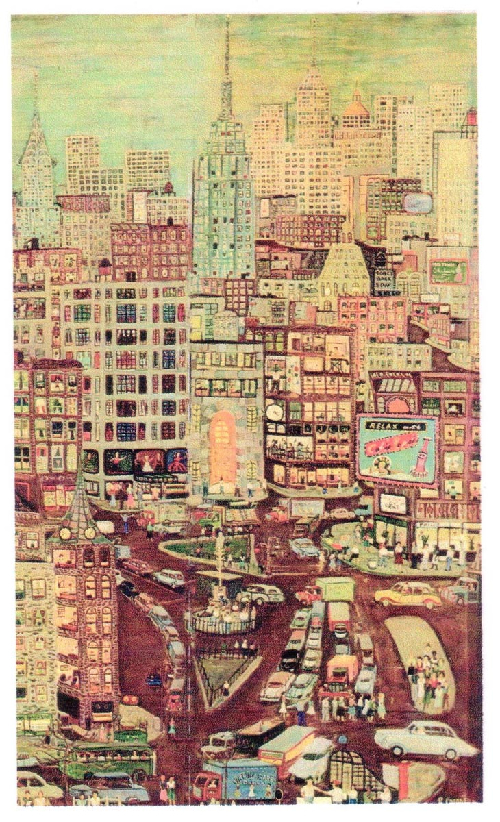 Empire State, 1975.  Source:Zero1Magazine