JF Ptak Science Books    Post 1671


Wood engravings and woodcuts making use of broad, deep areas of black have long been a favorite of mine.  Finding pools of deep, continuous black--especially when the dark-inked places well outweigh the untouched white spaces on a piece of paper--have been a source of intrigue, and it just doesn't seem to happen all that often in prints made say before 1650.  And I'm not talking about darkish or heavily shaded areas, here:  I mean black.
Compare this to another, gorgeous image from about the same period, (Julius Casear) Historien vom Gallier und der Romer..., published in Mainz in 1530:
The artist here while providing a very beautiful and complex image doesn't really attempt the great deep blacks of the Virgil--admittedly this process doesn't work everywhere  and for everything, not by any means, but I do like pointing out the true-black images as I find them.
The first image--one of 104 large woodcuts--appeared in Publius Virgilis  Maro, Opera accuratissime castigata, a very large (folio) work that was published in Venice in Jnuary, 1537. This is of course Virgil, and the work contains the Eclogues (or Bucolics), the Georgics, and the Aeneid--unfortunately, I cannot find any other illustrations from this massive effort of 1537 but that pictured here.
There are though  images from the Sebastian Brandt version of the Virgil Opera online with nearly the same images and by the same artist ("The Master of Gruninger") but earlier (1502) and from what I can determine perhaps not with the same deep black urgency as the 1537 edition (seen above).  For example, here is an image for the Aeneis, Liber Quintus, Plate 104: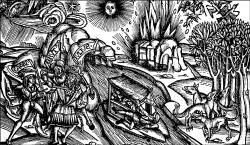 And another fromn the Aeneis: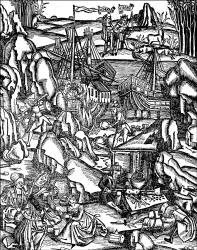 Image sources (for the two images above) are from Spriti of the Ages, here
It seems to me that day-time images like the 1537 Virgil do not get quite this black but rarely, and that the only times things seem to get blacker is with silhouettes.