JF Ptak Science Books  Post 1182
This is a continuation of an earlier post here offering a chronology of cosmologies.  This brings the total number of images to 81, a little more than half-way to the planned 150-item list.  I'll be folding them together into one file shortly. Enjoy.
Egyptian night sky.
Egyptian Cosmos
Ancient Japanese cosmogram.
Ancient Mexican cosmogram.
Incan cosmogram.
Hindu cosmogram.
Hopi Tunwup, the Sky God.
Navaho cosmology
Navaho Cosmos
600-900 ACE

Chinese celestial figures.
1275

1275
14th Century
1487
Chrisrian Anima Mundi.

The Children of Adam.
1496
The planets and the four elements, represented in naive form, in woodcut, in Philippe de Mantegat Judicium cum tractibus planetarii, and published in Milan in 1496.
1515
1519
Alboul Hassan Ali, Praeclarissimus in Juditijs Astronrum, printed in Venice, 1519, showing an arablian astrologer calculating and constructing a celestial sphere.
1524

Thannstetter, Wiener Praktik, published in Vienna, 1524. Showing farmers in their fields working under the not-very-watchful and distracted gazes of the seven planets.
1530
 
1533  Introductio geographica by Petrus Apianus, Ingolstadt, 1533
Luther Bible
Sebastian Munster, Organum Uranicum, printed in Basle in 1536.
Kepler's Mysterium Cosmographicum, 1596
Athanasius Kircher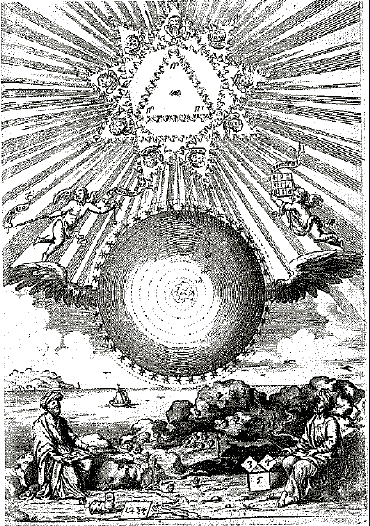 1660
Persian cosmoloigcal map as part of astrolabe
Basile Velntine's L'Azoth des Philosophes, publshed in Paris, 1659.
Andreas Cellarius, Corporum Coelestium Magnitudines (Celestial map), 1661
1675
 The All-Wise Doorkeeper, Musaeum Hermeticum, 1677.
1705

H. Van Loon, for L'Atlas Curieux by Nicolas de Fer, Paris: 1700-05
1822

Alexander Jamieson:  Stereographic Projection of the Northern Celestial Hemisphere

1850

 Andriveau-Goujon:  Cosmographie Generale