JF Ptak Science Books     Post 1144
This is the first installment of a planned 150-item chronological display of representations of the Cosmos.  It is by no means scholarly--it will be (at first, at least) a simple listing of antiquarian images, showing how the ideas of the  universe, the solar system and our envelope in space were displayed in artful form. There are no images of constellations, as the stars in those images tend to be generally static--at least until the invention of the telescope. (The number of named constellations and the images used to represent them,. though, certainly do change, but that is another story.)  This first installation contains 50 images, almost all of which are seen in the Continued Reading section, below.
For example, the following by Peter Apian, printed in 1525:
START
Ca. 3000 BCE, Egyptian
Ca. 2000 BCE, Hindu
Ca. 1500 BCE, Old Testament
Ca. 475 BCE  Greek   Empedocles (featuring a celestial sphere of  Earth, Water, Air and Fire" published in Irer Extaticum Coeleste  by Athansius Kircher, 1645
Ca. 10th Century, God the Geometer
 . 
 
Ca. mid-13th century, Dante's Cosmology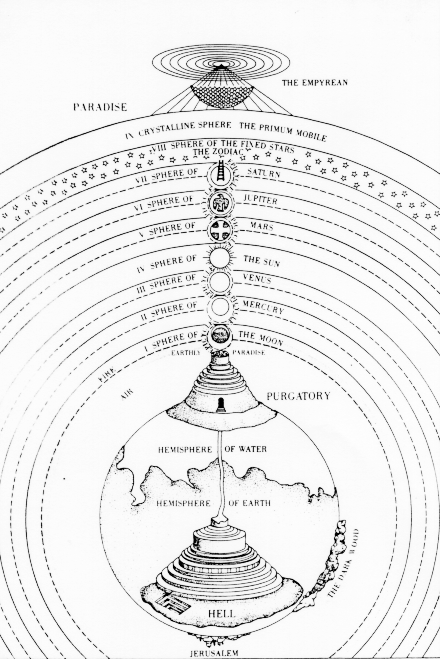 More Dante:
Ca. 14th Century, European  Pietro di Puccio


1445 Giovanni di Paolo, Creation of the World & Expulsion from Paradise,1445.
1481.
Konrad von Megenberg, Buch der Natur. 
1486. Bartholomaeus Anglicus, De propreitatibus rerum.
1495.  De caelo, Aristoteles
1495

Thomas Bricot.Textus abbreviatus in cursum totius physices et metaphysicorum Aristotleis... (Lyon, 1495).
1512  Ramon Lull, Liber de ascensu et descensu. Valencia, 1512 (though Lull is a 13th century figure).

1516. Der scaepherders kalengier.
1525
Johannes Chrysostomus.  Opera omnia quae adhue usque diem...1525
1533  Built on top of Opera Accuratissme Castigata (published in 1533) of Publius Vergilius Maro, better known (simply) as Virgil.
Johannes Dryander.  A,nulorum trium diversi generis... (Marburg, 1537). Astronomical ring dial constructed as the beginning of the equatorial used in modern observatories.
1539.
Peter Apian Cosmographicus Liber (1539).
1543
Copernicus.  In the De Revolutionibus,
1543

Illustrations de Thericae novae planetarum... Georg Peurbach  (1423-1461).
1555.
Orance Fine.  De Mundi SPhaera sive Cosmographia  (Paris, 1555).
1558.  Oronce Fine, The Rules and righte ample Documentes....
1558  William Cunningham, The Cosmological Glasse.

1588.
Giovanni Paolo Gallucci Theatrum mundi.
1596 Kepler. The Cosmological Enigma.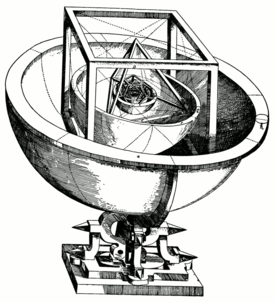 1605. 
Leonard Digges.  A prognostication everlasting of right and good effect...(London, 1605).
1618
Tabula Smaradina ("Emerald Tablet")  Matthew Merian's interpretation of the alchemical cosmology, a  schemata and representation of the order of things.  It appears (first) in Johann Daniel Mylius Tractatus III Seu Basilica Philosophica… (1618) 
1619  Robert Fludd's Pythagorean Monochord Utriusque cosmi maioris scilicet et minoris metaphysica, physica atque_technica historia, 1617.
Monochordum mundi. Illustration from the Robert Fludd's Utriusque cosmi maioris scilicet et minoris metaphysica, physica atque_technica historia, 1617.
1620  Robert Fludd Three World View

Figure 1: Robert Fludd's Three World View
1624  Differentes representations des systemes du monde; schema des orbites planetaires. 
Illustrations de Usus astronomicus planisphaerii stellati seu vice-globi coelestes...] by Jacob Bartsch (1624, above and below)
1624
1639 (a)


(Orbe de Vénus centrée sur la terre par rapport au soleil)   [Illustrations de Philolai sive dissertationis de vero systemate mundi. Libri IV;  Ismael Bullialdus, (1605-1691).  Publisher : G. & J. Blaev (Amsterdami) Source: Gallica, Bibliotheque Nationale. (For 1639 a+b)
1639 (b)

Orbe de Mercure centrée sur la terre.
1644  Rene Descartes Principia philosophiae(detail)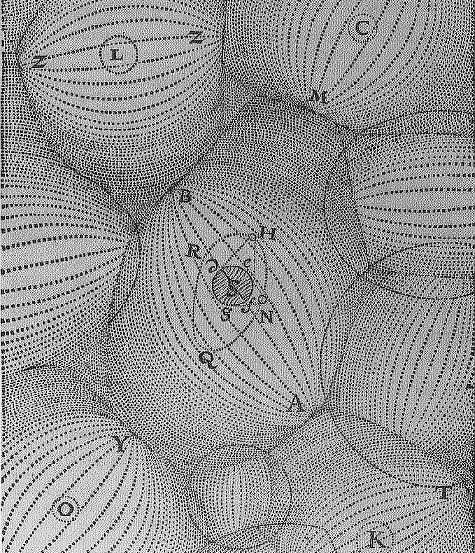 1658  Gasendi
Illustrations de Opera omnia. Tomus quartus : Astronomica
,
Gassendi, Pierre (1592-1655). 
Sumptibus Laurentii Anisson & Ioannis Baptistae Devenet (Lugduni), 1658.
1661  Celarius

1661 Celarius  The view of the heavens according t o Copernicus. 
1661
Cellarius: Orbium Planetarum Terram Complectentium Scenographia

1672 


"Illustrations de Introduction familiere en la science d'astronomie contre Copernic en la quelle on void les principes et les choses plus essentielles qui concernent cette science par le St. J. M." Jean Maurisse.


1686.  Fontenelle.  Plurality of Worlds.

1686.  Fontenelle.
1716.  Nicolas de Fer
1724. A scheme of the Solar System with the Orbits of the Planets and Comets belonging thereto...John Senex.
1742.  Atlas Coelestis of Johann Doppelmayr.
1750.
William Wright. An Original Theory of the Universe (1750) gives the Milky Way a friendlier, homogen
1781.  Samuel Dunn.
1785.  William Herschel's Milky Way.
1850.
Solar System. Source:  Smith's Illustrated Geography of the Heavens.
1835.  Elijah Buritt. : Atlas of the Heavens, New York, 1835.
1893.
Tunison, Solar System.